Raja Dhar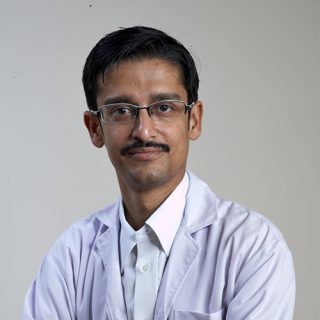 MBBS(Cal), MD (Resp Med), FRCP (UK),
MSc (Evidence Based Medicine, UK),
CCT (Respiratory and General Medicine UK),
FCCP (USA), FICS (Indian Chest Society)
Diploma in Palliative Care (Newcastle University)
Certificate in Education (Teeside University)
•Director and Head of Dept, Pulmonology, C K group of Hospitals, Kolkata.
•Director Research and Education, National Allergy Asthma Bronchitis Institute, Kolkata.
•Chair- Training and Education Initiatives, Indian Chest Society
•Director, HERMES exams Asia (European Diploma in Respiratory Medicine)
•Director, Asia Pacific Alliance for Control of Influenza (APACI)
•Governing Body Member Indian Academy of Bronchology (IAB)
•Joint Secretary Indian Academy of Allergy (IAA)
•Founder Member South East Asian Academy of Sleep Medicine (SEAASM)
•124 International and National publications in indexed journals and Abstracts along with 17 Book Chapters. Lead author for EMBARC India.
•Associate Editor for Respirology and on Editorial Board for multiple other journals
•Dronocharya Award for Excellence in Continuing Medical Education in India (IHW),
Indira Gandhi Gold Medal for Outstanding Individual achievement in Medicine (GEPRA)
•Coordinator for DNB course for the last 8 year. Started first DNB Respiratory course in Bengal